Ian en Paul breiden hun Bourbonmerk in Amerika uit, na een succesvolle pre-sale is het merk nu al te koop in 17 Amerikaanse staten.
The Vampire Diaries stars Ian Somerhalder and Paul Wesley have expanded the US availability of Brother's Bond Bourbon after achieving the 'most successful pre-sale launch' in the history of Reserve Bar.

Somerhalder and Wesley became the latest celebrities to move into spirits when they launched Brother's Bond Bourbon in 2020.

The 40% ABV expression is a four-grain, high-rye Bourbon comprised of 65% corn, 22% rye and a percentage of wheat and barley that has not been disclosed. It is aged for a minimum of four years in virgin American oak barrels.

The name of the brand is a nod to the actors' former roles in supernatural drama The Vampire Diaries, where they played brothers, as well as their shared love of Bourbon and the 'brotherhood they have formed over the years'.

"Our characters bonded on-screen over Bourbon and so it made sense that we would do the same off-camera," the duo said. "Never could we have imagined that our creation would come this far and help establish new bonds as well as strengthen old ones. We are so proud of the success of our initial release and are excited to say that this is just the beginning."
Read More
Since playing on-screen brothers, the former 'The Vampire Diaries' stars explore the next phase of their lives together — this time, as business partners.

For Paul Wesley and Ian Somerhalder, their mutual love of bourbon — much like their brotherly bond — has been over a decade in the making.

The former co-stars turned business partners are famed for their portrayal as vampire brothers Stefan and Damon Salvatore on The CW's franchise hit The Vampire Diaries. But Wesley and Somerhalder's on-screen brotherhood extends far beyond the eight-season run of the show that catapulted them to stardom.

When they weren't playing blood-thirsty vampires on-screen, Wesley and Somerhalder were building a thirsty tradition of their own — drinking bourbon, of course, off-set after hours.

"So we could tolerate each other off-screen," Wesley jokes.

A Louisiana native, Somerhalder grew up surrounded by the culture of Southern whiskey. "I've been drinking bourbon for 25 years," the actor says. "It pumps through my veins."

So, after over a decade of drinking together, Wesley says that creating their own bourbon "felt like an incredibly organic thing to do."

And so began their journey to creating Brother's Bond Bourbon — a passion project that has seen Wesley and Somerhalder through the next stage of not only their professional relationship, but their friendship, as well.

The pair — "attached at the hip," says Wesley, in their Vampire Diaries days — are now in the midst of what they call their "2.0" phase of life. "This is gonna be another decade together," Somerhalder says.

For the target audience of their new product, they're looking to extend beyond that of their TVD following — the show, which ended in 2017, was the 15th most-streamed series of 2020, according to Nielsen's yearly rankings — and into the homes of bourbon connoisseurs and new whiskey drinkers alike.
Ian heeft in een instagrampost voor de 33e verjaardag van zijn vrouw Nikki laten weten haar dankbaar te zijn voor haar hulp met zijn schulden. Hij laat weten dat hij door slechte zakelijke beslissingen een grote schuld had waarbij zij hem geholpen heeft dit af te lossen.
Actor Ian Somerhalder took to Instagram this weekend to praise his wife Nikki Reed on her 33rd birthday by revealing a very personal chapter in their lives.

The star said he found himself in a "terrible business situation" while shooting "The Vampire Diaries," which led to Reed spending two years of her life getting Somerhalder out of debt.

"Before Nik and I got together I built a company while shooting 'TVD' that was important to me," Somerhalder wrote. "I invested heavily, I made huge personal guarantees to banks. However due to greed and fraud within that company and fraudulent activities from our biggest customer, not to mention the temporary collapse of the oil and gas industry — I was left in an EIGHT- FIGURE hole."

Somerhalder, 42, said that time in his life was "a true nightmare day in and day out."

The actor said he had to travel the world weekly to pay "massive" six-figure banknotes. He said it led to him being in the hospital four times over a two year period, but did not explain the nature of his hospitalizations. Then the "Twilight" star came to his rescue.

"This woman here decided that she didn't want to see her husband ruin his body/mind/spirit and pulled up her bootstraps and got down in the trenches assembling a team to get to the negotiating table to find a way out," he wrote.

"I am where I am BECAUSE of this woman," Somerhalder continued, highlighting his new venture, Brothers Bond Bourbon. "I was able to start my life over because of this woman."

Somerhalder and Reed were married in 2015. Their daughter, Bohdi Soleil, was born in 2017.
The 'Vampire Diaries' stars' new four-grain whiskey has only been available for a few days online — and it's already one of the toughest bottles to get your hands on

If you purchase an independently reviewed product or service through a link on our website, Rolling Stone may receive an affiliate commission.

ONE MORNING EARLIER this spring near Los Angeles, Ian Somerhalder and Paul Wesley are Zooming in from their new office space while, they explain, construction is going on outside. The veteran Vampire Diaries stars, who played the Salvatore brothers on the popular CW show, aren't on set to film anything right now — instead, they're gearing up to release the new, highly-anticipated whiskey they co-founded, called — what else? — Brother's Bond Bourbon.

For a whiskey that few have tried yet, it's already proving to be a smash-hit. The four-grain bourbon whiskey hit record numbers when it went on pre-order on the site ReserveBar in fall 2020 and in early 2021. And now, whiskey lovers can finally buy a bottle online (when the site can keep it in stock).

Creating the whiskey from the ground up has been a labor of love for the duo, and it became another chance to work together following their run on eight seasons of one of the hottest series on TV (the complete series is available now on Amazon) The market for celeb liquor brands seems to be getting more crowded by the minute, but as the two telling Rolling Stone, this new release is made for bourbon lovers, by bourbon lovers.

"There's a lot of alcohol brands out there and more specifically, in recent years, there's been a real surge of sort of quote-unquote 'celebrity-endorsed brands,' whether it's a musician or an actor or an athlete," Wesley says. "And, I think the thing that really distinguishes us…"

"Where do you fall?" Somerhalder interrupts. "You're a celebrity? Are you calling yourself a celebrity?"

"I was more referring to you," Wesley says.

Jokes aside, this whiskey has been years in the making for the two actors.

"I think the thing that distinguishes us is that Ian and I, we drank bourbon on the television show that we did and we fell in love with it," Wesley says. "We shot the show in the South. Our characters drank bourbon on the show. We drank bourbon off-screen. We bonded on-screen, we bonded off-screen drinking bourbon, and so when the show ended, we had been talking about creating a bourbon for years. When the show ended, it was just the perfect time to do it. And so everything you see here, the label, the bottle, the name…"

"Obviously the liquid," Somerhalder adds.

"… and certainly the mash, it's all our creation, everything," Wesley says. "We put this thing together and so for us, it's just felt incredibly organic."

The release of Brother's Bond has been a long time coming. And recently, Somerhalder and Wesley had to be in constant virtual communication when working through the pandemic leading up to the May launch date.

"There's thousands of messages a week," Somerhalder says. "We are never not in contact. I mean, there's not a 20-minute space in time that goes by that we're not in contact with either each other or our team, which is pretty wild."

"I just send him selfies, nothing to do with bourbon," Wesley jokes.

Somerhalder continues. "But for two dudes who spent eight years together, literally 10 months a year, every day, to then be this connected, it was a mistake. [laughs] But the bourbon is fucking great."

Brother's Bond Bourbon is an 80-proof straight bourbon that some, including this whiskey drinker, might sum up as an incredibly smooth, super drinkable spirit, tasty enough that whiskey lovers will want to pour it neat or on the rocks. But as Wesley and Somerhalder point out, you can find a list of drink recipes on their site if you're craving a whiskey cocktail, too, from a classic Brother's Fashioned to a simple Brother's Julep.

"For two dudes who spent eight years together, literally 10 months a year, every day, to then be this connected, it was a mistake. But the bourbon is fucking great."
The name "Brother's Bond Bourbon" is, of course, a nod to their Vampire Diaries characters, with a label that shows two people sitting under a tree. But the guys say the theme goes well beyond just the show.

"Our characters bonded on-screen over bourbon," Somerhalder says, "he and I bonded off-screen over bourbon, and now to think that new bonds — random people meeting — [to] old bonds, families, friends, brothers, sisters, dads, moms, aunts, uncles getting to just have conversations, holding our bourbon in their hands… that's pretty special, man, you know?"

Brother's Bond Straight Bourbon Whiskey is available now to order on ReserveBar.
Netflix's globally streaming documentary is stirring important conversations about the solution we're all standing on: soil.

Ian Somerhalder, of The Vampire Diaries and Lost series fame, believes Netflix's Kiss the Ground is the "single most important documentary ever."

"This is a paint-by-numbers way of how to stop climate change," says the actor turned executive producer for the film. It's one that's stirring conversation about a "new, old approach" to farming called regenerative agriculture. Kiss the Ground makes the point that the solution is right under our feet, and how we manage soil has "the potential to balance our climate, replenish our vast water supplies, and feed the world."

Yet, it's a film about dirt, a running joke for the cast and crew of the documentary. So Somerhalder and colleagues had to find a practical way to humanize the overarching narrative that concerns just how much conventional agriculture has transformed our world — for better or worse, but mostly the latter — and how soil regeneration by farmers might provide a viable way to abate consequences of a warming world.

Ian Somerhalder, actor and executive producer of Kiss the Ground, sits down with Neil Ever Osborne, Climate Change and Sustainability Editor at The Weather Network, to discuss dirt, bourbon, and climate change.
Eerder liet ik weten dat Paul en Ian samen bezig waren om hun eigen Bourbon merk te maken, het favoriete drankje van hun 'TVD' personages Stefan en Damon. En deze is er nu genaamd 'Brothers's Bond', maar jammer genoeg alleen te koop als je in de VS woont.

Here it is. Our passion. Our baby. Ladies and gentlemen please meet,
Brother's Bond Bourbon. Time. Quality. Passion. Distilled for you and me.
We appreciate your support more than you know. If you are 21 years or older in the United States or legal drinking age in your home country please
Go to:
Brothersbondbourbon.com to sign up. We can't wait to share with you! Please share this website address with friends and family. Let's bond.
Love, Ian and Paul
Galerij Links:
http//: Instagram 2020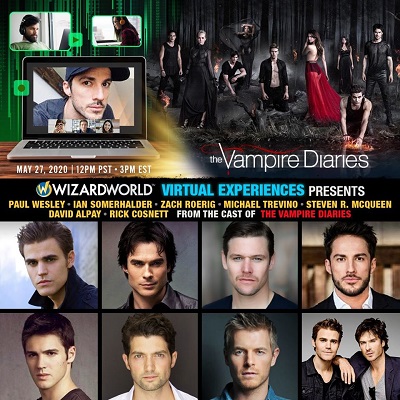 De cast van de Vampire Diaries zal een online panel doen met Wizard World morgen, castleden Paul Wesley (Stefan Salvatore), Ian Somerhalder (Damon Salvatore), Zach Roerig (Matt Donovan / Ethan Maxwell), Michael Trevino, (Tyler Lockwood), Steven R McQueen (Jeremy Gilbert), David Alpay (Atticus Shane) and Rick Cosnett (Dr. Wes Maxfield) zullen hier aan deelnemen. Ook is er de mogelijkheid voor een één op één livechat met enkele castleden. Voor meer informatie bekijk de website van Wizard World.
Het gezamenlijke interview van de cast zal online geplaatst worden en zal ik dus ook delen :)
De laatste instagramfoto's van de cast staan in de galerij!






















Galerij Links:
http//: Candice King
http//: Charles Michael Davis
http//: Claire Holt
http//: Danielle Rose Russel
http//: Ian Somerhalder
http//: Jenny Boyd
http//: Joseph Morgan
http//: Kat Graham
http//: Kayla Ewell
http//: Kaylee Bryant
http//: Leah Pipes
http//: Malese Jow
http//: Matthew Davis
http//: Michael Malarkey
http//: Michael Trevino
http//: Nate Buzolic
http//: Nina Dobrev
http//: Paul Wesley
http//: Phoebe Tonkin
http//: Riley Voelkel
http//: Sara Canning
http//: Steven R McQueen
http//: Summer Fontana
http//: Torrey DeVitto
Ian heeft een nieuwe fotoshoot gehad met Timeless Magazine.

Galerij Links:
http//: Flaunt Magazine